First of all, what is a purpose?
Purpose is defined as a central, self-organizing life aim that directs our goals, behaviors and  gives us a sense of meaning. Purpose gives us guidance in our daily decision-making, as well as guiding our long term objectives in life. Having a purpose in life gives us motivation to initiate actions and projects, as well as finish them. Pursuing a purpose  and being goal oriented can contribute to improving our health and well-being[1]. 
In this short blog post, I will discuss veganism in the context of purpose. Becoming vegan made me question many of my assumptions and in some ways it has become my goal to share the ideas of veganism, to help change the world for the better.
According to the Vegan Society, veganism is not only a diet that excludes animal derived  products, but also a philosophy of life. The vegan way of living implies rejection of animal  cruelty and exploitation for any reason[2]. Being a vegan is not only making choices about which  products to choose, but it is also about making an indirect impact on the world and dictating its future. By means of veganism we can contribute to protecting our identity, environment and  promote achievable sustainability. There are of course multiple reasons why one would switch  to a vegan diet, but there is one aspect that connects them all: trying to make the world a better  place. It is possible to say that veganism functions as an internal compass that influences behavior, but also helps with setting goals. In this way the philosophy of veganism can serve as a purpose in life.  
Going vegan
For a person to become vegan, a certain realization must be reached. The person changes his or  her lifestyle to a more conscious one directed by internal values and goals. Going vegan makes  you aware of how your actions have an impact on the world around you. Once becoming a vegan, you must put more thought into choosing what to buy in the supermarket, studying food labels for hidden milk powder or making sure that the product is cruelty-free. But as mentioned before, being vegan is not only about choosing what to put on your plate, it is also fighting for animal  rights and ending environmental devastation. For vegans, the ultimate goal is to end animal suffering and make the world a better place, thus giving a sense of purpose.  Purpose can manifest in various ways, for instance through educating others about veganism by writing blogs, reposting information, or simply having conversations with friends or family[3].  Another way to find a new sense of purpose can be campaigning for more vegan options in the  local restaurants, contacting companies with suggestions, or getting involved in vegan  movements. After going vegan, many people get excited about cooking, trying out new tastes and recipes. Sharing your newly discovered vegan recipes with people is an easy way to show  that a plant-based diet can be healthy and delicious. Everyone with a deep set belief wants to be surrounded wants to be surrounded by like-minded people, so joining local vegan clubs or trying  to connect with vegan groups online can create a sense of community.
Purpose and well-being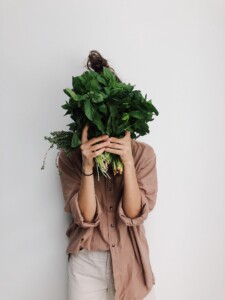 Having a purpose in life has been linked to increased health and well-being[4]. People that  follow a vegan based philosophy on life have been shown to have more structured aims than their non-vegan counterparts. This is because an internal compass is present that guides them from one goal to another, which itself has been linked to improved well-being. Moreover, researchers have found that people who are aware of their purpose show greater well-being as well as more progress in pursuing their goals. Switching to veganism is  a conscious decision, making you more aware of your purpose. When one lives in harmony with one's own purpose there is a positive psychological, physical and social spill over, improving well-being in all these areas. Therefore, we can assume that vegans experience better health and well-being solely based on having a purpose. Additionally, vegetarian and vegan diets have been associated with better physical health, including lower incidences of fatal heart diseases, cancer and other diseases. It is also  reported that vegans experience fewer negative emotions compared to omnivores[5]. Moreover, it seems that vegetarians and vegans have a healthier lifestyle, all contributing to a greater physical health and well-being. Becoming a vegan also has a great impact on the environment, as individual decisions can contribute to everyone's collective well-being[6].  
Vegan neighborhood
Veganism has been becoming more popular, as shown by the many restaurants and supermarkets which have begun offering vegan options. However, in Toronto the first ever vegan neighborhood has been formed. The neighborhood is officially called 'Vegandale' and is a collaboration between many local businesses that strive for the same goal of making the world more vegan by creating a space where veganism is celebrated and promoted as commonplace, effortless and enjoyable[7]. Forming such a neighborhood creates a community that shares the same goals. Community based neighborhoods that are driven by this same philosophy will also improve psychological well-being and create a sense of support in the pursuit of the same purpose.
Purpose is a central part of personal identity, and as it manifests itself through the determined pursuit of goals, it also impacts personal behavior. Veganism can be considered to be a purpose as it influences behavior and personal goals. Purpose displays itself in vegan lifestyles through the determination of vegans to make the world a better place. My experience of veganism has certainly given me a level of determination to improve the world which I didn't have before. This persistent sense of direction has not only made me a better person, but a happier one.
References
[1] McKnight, P. E., & Kashdan, T. B. (2009). Purpose in Life as a System that Creates and Sustains Health and Well-Being: An Integrative, Testable Theory. Review of General Psychology, 13(3), 242–251. https://doi.org/10.1037/a0017152.
[2] Definition of veganism. (2020). The Vegan Society. Retrieved February 12, 2022, from https://www.vegansociety.com/go vegan/definition-veganism
[3] Best, E. (2018, June 29). How going vegan can add purpose to your life. Thrive Global. Retrieved February 13, 2022, from https://thriveglobal.com/stories/how-going-vegan-can-add-purpose/.
[4] McKnight, P. E., & Kashdan, T. B. (2009). Purpose in Life as a System that Creates and Sustains Health and Well-Being: An Integrative, Testable Theory. Review of General Psychology, 13(3), 242–251. https://doi.org/10.1037/a0017152.
[5] guacel, I., Huybrechts, I., Moreno, L. A., & Michels, N. (2020). Vegetarianism and veganism compared with mental health and cognitive outcomes: a systematic review and meta-analysis. Nutrition Reviews, 79(4), 361–381. https://doi.org/10.1093/nutrit/nuaa030.
[6] Krizanova, J. (1970, March 26). Wellbeing & veganism: Happy and Veg*an? The Vegan Society. Retrieved February 13, 2022, from https://www.vegansociety.com/get-involved/research/research-news/wellbeing-veganism-happy-and-vegan.
[7] Starostinetskaya, A. (2022, February 13). First All-Vegan Neighborhood Forms in Downtown Toronto. VegNews.Com. https://vegnews.com/2018/3/first-all-vegan-neighborhood-forms-in-downtown-toronto.