Authors: Allison Wille Barron Sierra, Jing Rou Lum and Sem Gordijn
Imagine being a part of a walking group that wants to increase social cohesion and well-being in your community. As you join the group you see other walkers and feel excited. You feel a sense of belongingness and relief as you walk across the streets of your neighborhood. As you continue your walk, you chat with many group members to get to know them. You also become aware of the beneficial effects of the walking group on your wellbeing. You feel better because of the outside air, exercising, and social interaction. You feel a sense of connection and purpose, knowing you are part of something.
Sustainability, Health and Wellbeing
Starting point of the policy intervention
Meerdijk and Bloemenoord are two neighborhoods in the municipality of Waalwijk in Netherlands. We visited the two neighborhoods during a field trip and observed each  community. There are multiple ponds with benches and decks in the communities for residents to  enjoy nature. Besides that, the sidewalks are broad and safe, and there are also separate bicycle  lanes, which are friendly to people with mobility issues or disabilities. Despite all these positive  traits, some details from the neighborhoods and data that we found caught our attention. We could  see the lower-class houses on one side of the pond in Bloemenoord and the high-class houses on  the other side in Meerdijk. This indicates a clear contrast between Meerdijk and Bloemenoord  regarding their income levels, which can be seen from the houses in the two neighborhoods.  Meerdijk is relatively more prosperous; their income per capita is €13.000 higher than  Bloemenoord in 2021 [1].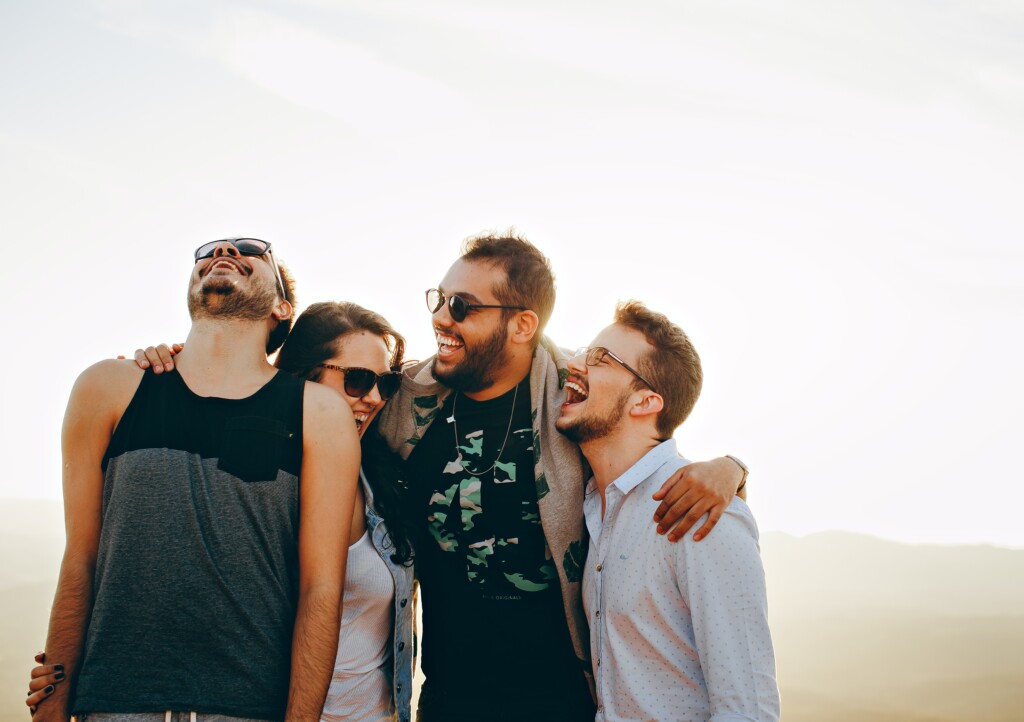 In addition, the age difference between the two communities is vast, with Bloemenoord  having relatively younger generations than Meerdijk, aged between 25 and 45 [2]. This leads to  less interaction amongst the residents of both neighborhoods due to the age differences. Another  important finding is that, according to a report of the National Institute of Public Health and the  Environment, Meerdijk and Bloemenoord have relatively high loneliness rates of 41% and 49%,  respectively [3]. As a consequence of such, the community can experience a decline in social  cohesiveness. Looking at the two neighborhoods with different sociodemographic characteristics,  we find that residents of neither neighborhood are familiar with the other's neighborhood. The  reason behind this is that during the field trip some residents of Meerdijk were asked if they had  ever visited Bloemenoord, and most of the answers they gave were that they hardly ever go and  would instead go to the city center. This could be one factor leading to poor social interaction  between both residents. Additionally, there is a large and busy road between the two  neighborhoods. However, it may also be avoided due to being unsafe, especially for the elderly  and children [4].  In light of the data acquired during the field trip and the facts presented above, we decided  to focus on the following question: How might we facilitate social interaction between the  residents of Meerdijk and Bloemenoord?
Consequences of insufficient social cohesion within a community
For residents living in the same area, a poor community cohesion could lead to serious consequences. The article discusses how poor community cohesion can reduce an individual's resilience and lead to negative emotions like sadness, anxiety, and stress. This can make it more difficult for individuals to cope with hardship or illness [6]. For example, when a person is feeling sad and does not have anyone to talk to, they may find it challenging to manage their emotions effectively, which can exacerbate the situation. Not only the elderly but also the young can experience social isolation and loneliness because of decreased community cohesion due to prolonged periods of not interacting or building relationships with neighbors [7]. Social anxiety can have a negative impact on one's life by creating fear, anxiety, and stress, which can affect relationships, daily life, and work. For instance, when people from different neighborhoods meet while shopping or walking on the street, they may feel intimidated to interact with strangers and may avoid socializing. In addition, reduced social cohesion also affects physical health through reduced physical activity. It limits an individual's activities, thereby reducing social support and, ultimately, possibly social capital [5].
Taking a step-by-step approach towards a healthier and happier lifestyle
Our intervention policy, "Walking Group Happy Feet," focuses on improving the social cohesion amongst the residents of the neighborhoods Meerdijk and Bloemenoord. Firstly, we will recruit members to join our walking group and set the schedules. Secondly, we will establish the  walking route and pace for the groups. Older members and young children will be able to keep up  with the walking because we will set up groups with different paces and routes according to age  and individual conditions. Thirdly, we will organize some creative activities during the walk.
For example, a themed walk would include historical characters, a treasure hunt, natural sightseeing, etc. The members will also take turns leading the group and setting up their walks and activities.
"Step by step, we walk towards improving social cohesion, health, and wellbeing."
Fourthly, the program will run five times weekly; each walk will be at most 2 hours. During the  walk, a break will allow members to rest and provide a social bridge to chat. Also, at the end of  each week, we will send out a survey to ensure the members' satisfaction and progress. Lastly, we  will have a monthly gathering such as dinner, a picnic, or a potluck to show appreciation to the  group members for their participation and to celebrate the milestones and the best walkers of the month. 
Walking Group Happy Feet: Simply putting one foot in front of the other can  change the way people live
In conclusion, our policy intervention aims to create social cohesion between the residents of Meerdijk and Bloemenoord, focusing on including all aged members. The main objective is to create "Walking Group Happy Feet" by recruiting individuals from both neighborhoods and setting objectives for the program. Seven steps are proposed to carry out this intervention; recruiting members, selecting a time, selecting a meeting location, planning the route and setting the pace, walking and encouraging members to socialize, organizing fun activities, and thanking and rewarding participants. This intervention will ensure a great way of being healthy while being social. The residents will benefit from the walking group as it enhances mental and physical health, reduces loneliness, and encourages social engagement and a sense of belonging [8]. Eventually, members of both neighborhoods will get along and create a sense of community.
We are sure that when the residents of Meerdijk and Bloemenoord join Walking Group  Happy Feet, they take a step in the right direction towards a happier self and cohesive community.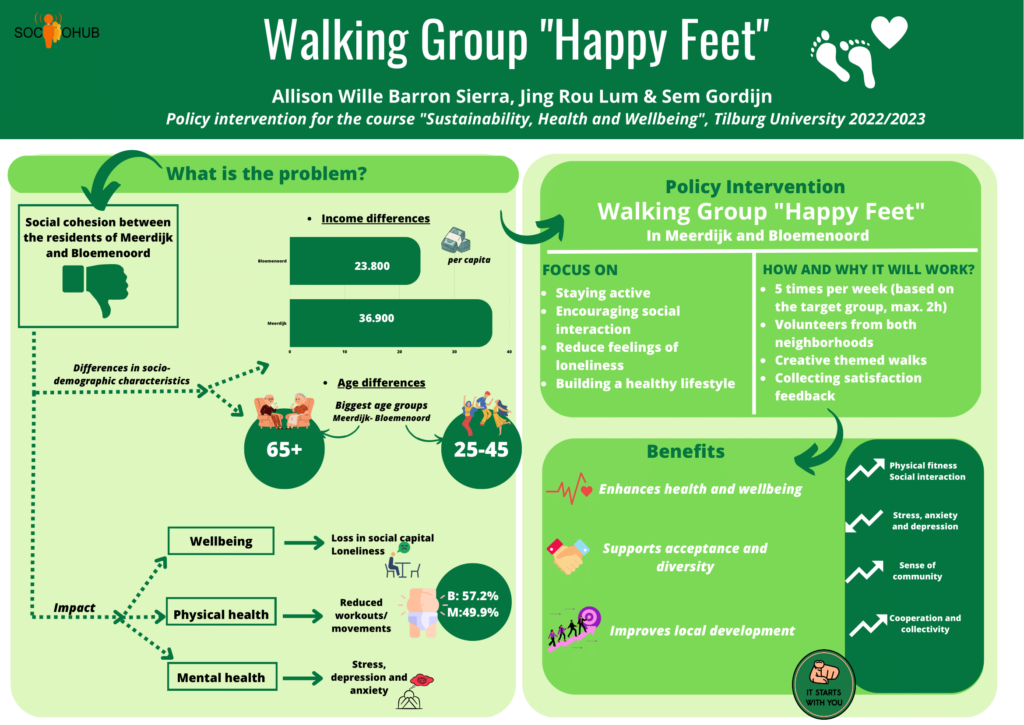 References:
[1] CBS Statline. (2022). Kerncijfers wijken en buurten 2022. Centraal Bureau voor Statistiek Statline. Retrieved from https://opendata.cbs.nl/statline/#/CBS/nl/dataset/85318NED/table?ts=1680599578413
[2] CBS. (2022). Inwoners per gemeente. Centraal Bureau voor Statistiek. Retrieved from https://www.cbs.nl/nl-nl/visualisaties/dashboard-bevolking/regionaal/inwoners
[3] National Institute of Public Health and The Environment. (2020). Health by neighborhood, district and municipality. RIVM. Retrieved from https://www.rivm.nl/media/smap/ervarengezondheid.html?detail=buurt&gemeente=Waa lwijk
[4] Liu, Y. C., & Tung, Y. C. (2014). Risk analysis of pedestrians' road-crossing decisions: Effects of age, time gap, time of day, and vehicle speed. Safety science, 63, 77- 82.
[5] Carpiano, R. M. (2006). Toward a neighborhood resource-based theory of social capital for health: Can Bourdieu and sociology help? Social Science & Medicine, 62(1), 165-175.
[6] Zautra, A., Hall, J. S., & Murray, K. (2010). Resilience. A New Definition of Health for People and Communities. In J. W. Reich, A. Zautra, & J. S. Hall (Eds.), Handbook of Adult Resilience. The Guilford Press.
[7] Cacioppo, J.T., & Hawkley, L.C. (2003). Social Isolation and Health, with an  Emphasis on Underlying Mechanisms. Perspectives in Biology and Medicine, 46(3), S39- S52. Retrieved from  https://www.researchgate.net/publication/9047804_Social_Isolation_and_Health_with_a n_Emphasis_on_Underlying_Mechanisms 
[8] Hanson, S., & Jones, A. (2015). Is there evidence that walking groups have health benefits? A systematic review and meta-analysis. British journal of sports medicine, 49(11), 710-715