For the last few years, around the world, people have been confined to their houses in isolation from their typical environments to do their part in coronavirus protection. After months of suffering, people were desperate for governmental restrictions to lessen and for life to return to normalcy, including socializing with friends, hugging our peers, and all other human-nature aspects that had now been deemed "dangerous." 
The Dutch – in particular – championed strong fights against extended lockdown policies, claiming that they were doing more harm than good. So why do the streets of the Tilburg's Stokhasselt Zuid neighbourhood remain so barren, despite the relaxation of measures?
Diagnosing a Problem in Stokhasselt Zuid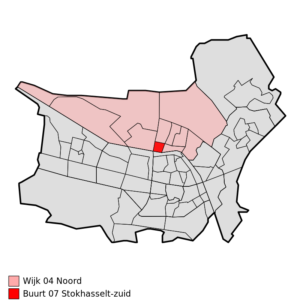 Stokhasselt is an exciting neighbourhood for anyone with a knack for sociology. The neighbourhood is divided into North and South, each side being native to two completely different types of residents. In the North, residents generally face more socioeconomic trouble than their affluent neighbours in the South. Enjoying more wealth, the Southside of the neighbourhood does have many great resources available to them, such as parks, clean streets, large homes, and comfortable disposable incomes, yet they face significant community cohesion issues. 
While a sense of privacy is expected from many neighbourhoods, walking the streets of Stokhasselt Zuid makes it highly evident that the neighbourhood lacks social connectedness. Why does this matter, you may ask? Well, at any point in our lives, our environment around us has significant effects on our behaviours, attitudes and overall well-being. The entire world is moving toward a direction of sustainability, whether it be preserving ourselves and our health or the atmosphere around us for future generations. In fact, 85% of consumers around the globe have indicated that their buying habits have become greener in the past five years [1]. 
Considering the ageing population of the neighbourhood, promoting well-being can have quite significant effects on life satisfaction and health. As people age, they often find themselves spending more time alone. Studies have shown that loneliness and social isolation are associated with higher rates of depression [2]. However, the identified neighbourhood problem of lack of connectedness is hindering Stokhasselt Zuid's ability to better itself.
Combatting a Societal Issue in Our Community 
According to The New York Times, a lack of social connectedness can lead to immense mental and physical health challenges. People with close social ties and unhealthy lifestyles such as smoking, obesity and lack of exercise lived longer than those with poor social ties but healthy living habits [3]. Moreover, an unhealthy resident has a much harder time making social contributions to the community, leading to the fear for the neighbourhood to lose its potential and fall apart.
How do we fix these social problems? This is a question that has been asked since the beginning of time – and the answer remains just as ambiguous as it was the first time the question was posed. There has been much debate about how to best intervene in a social issue. Many organizations have run into trouble in the past, slapping band-aid solutions on societal issues for performative social responsibility. In these types of quick fixes, the solution often originated before the problem was even correctly identified, making many modern solutions suited to the wrong cause.
In creating a social intervention for Tilburg's Stokhasselt Zuid, a detailed analysis is needed of what residents truly require to remedy their lack of connectedness. Design thinking was used to identify three main solutions: boost community engagement, increase the depth of community relationships, and foster community optimism. 
Getting Clear on the Attributes of the Stokhasselt Zuid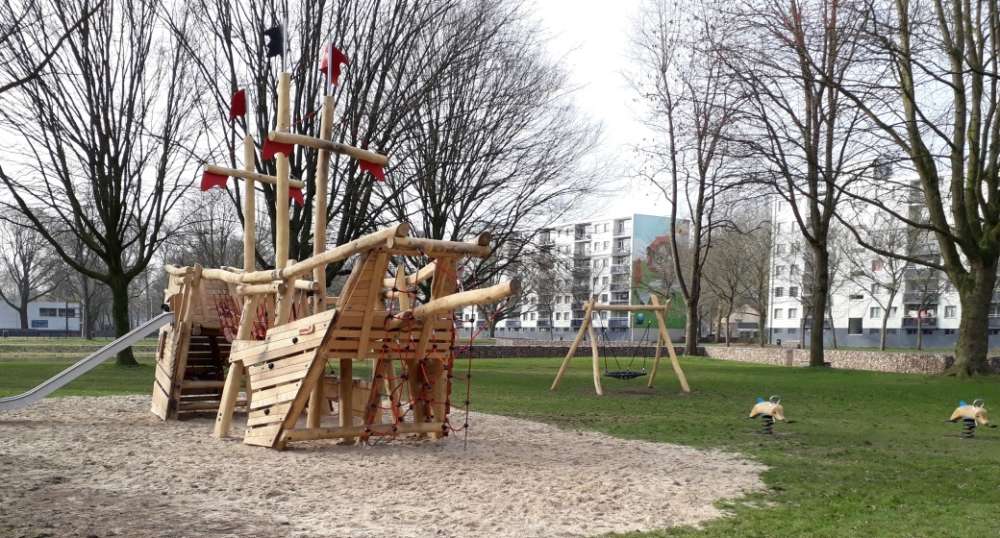 Understanding whose needs you are serving is a challenge faced by all industries and markets. From business owners and charity organizations to policy designers, many different people seek out help from consultants to answer this question with accuracy.
A deep dive into the analytics of Stokhasselt Zuid residents have identified them to be a very interesting group. Primarily, the residents were found to be educated, with 51.% of the population being classified as having a high level of education (HBO or WO level) and 34.4% at least having a primary education and either vocational or management training (HVO, VWO, MBO2, MBO3, MBO4) [4]. Higher education is indicative of a preference for worldly or cultural experiences, meaning the residents are likely seeking this to be reflected in a final neighbourhood intervention. The residents are also retired, meaning they have lots of time on their hands for activities or community efforts. Having access to adequate disposable income, too, means that these residents like elevated products for their lovely homes. The quietness on the streets suggests that residents need to be enticed to come out of their homes. However, an incoming generation of grandchildren to grandparents or young families moving in during the next few years indicates a need for activities to keep busy. 
Avenues to Pursue: The Artisanal Market 
While it may sound pretty obvious, ideation is a critical phase of social intervention. It is essential to be creative, innovative, and challenging. The social research team put forth many intervention ideas, but the one that appeared to prevail the most was the Stokhasselt Artisanal Market.
The Artisanal Market (now set to launch in Tilburg in June 2022) was planned to make use of Stokhasselt's vast green spaces. Many of these spaces had been transformed into sports fields but did not serve a clear purpose to the community. Every weekend, 12-14 vendors will sell products ranging from fresh fruits, vegetables, and cheeses to artisanal crafts and local art. The market would take place on Sundays, a day known for rest and enjoyment with friends and family before slowly gearing up for a new week. While vendors do not necessarily need to be from Stokhasselt Zuid, the neighbourhood residents are welcome to apply for a vendor stall at the market and sell their offering of choice! Vendors and attendees could also come from Stokhasselt North to boost cohesion between the two areas. 
Assessing the Fit of The Artisanal Market in Stokhasselt Zuid 
The Artisanal Market is an exciting community effort that is coming soon to Stokhasselt Zuid in June 2022. While it is still in its early days, this community intervention to increase connectedness in the neighbourhood is extremely well-suited to the Stokhasselt neighbourhood. The Artisanal Market is a neighbourhood-wide activity, meaning it is working to increase engagement between all of the residents. This gets people out and about in the neighbourhood, which in turn increases their well-being. Similarly, the social interactions with neighbours that residents get to enjoy at the market work to increase the depth of relationships in the neighbourhood. This translates to an increase in our mental well-being. Lastly, the Artisanal Market is a weekly event that is both enjoyable and exciting. This works toward heightening the optimism of the neighbourhood. With people having increased confidence in the vitality of the neighbourhood, the market is both a fun weekly activity to anticipate and a sense of hope for the future.
The intervention addresses a well-defined problem, serves a set group of people, and uses a planned course of action to increase well-being through heightened connectedness. The city of Tilburg is very much looking forward to observing the growth that Stokhasselt will come to experience!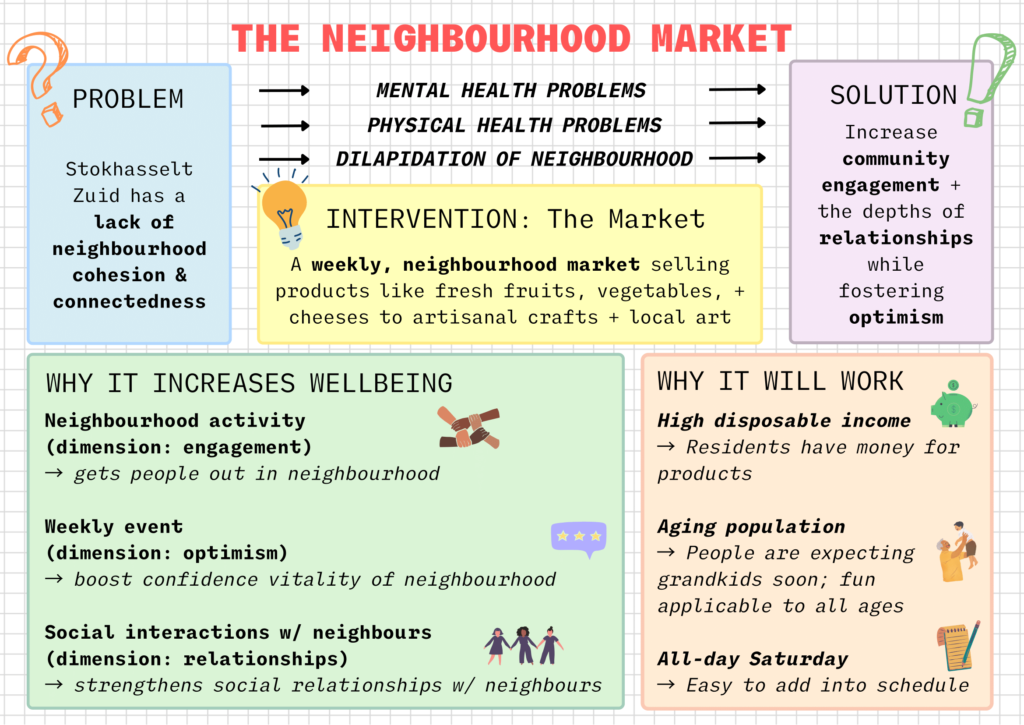 References 
[1] Recent study reveals more than a third of global consumers are willing to pay more for sustainability as demand grows for environmentally-friendly alternatives. Business Wire. (2021, October 14). Retrieved April 2022, from https://www.businesswire.com/news/home/20211014005090/en/Recent-Study-Reveals-More-Than a-Third-of-Global-Consumers-Are-Willing-to-Pay-More-for-Sustainability-as-Demand-Grows-for Environmentally-Friendly-Alternatives 
[2] U.S. Department of Health and Human Services. (July 7, 2021). Depression and older adults. National Institute on Aging. Retrieved April 2022, from https://www.nia.nih.gov/health/depression-and-older-adults
[3] Brody, J. E. (2017, June 12). Social interaction is critical for mental and Physical Health. The New York Times. Retrieved April 2022, from https://www.nytimes.com/2017/06/12/well/live/having-friends-is-good-for-you.html
[4] Demographics of Stockhasselt-Zuid . AlleCijfers.nl. (2022, March 16). Retrieved April 2022, from https://allecijfers.nl/buurt/stokhasselt-zuid-tilburg/#:~:text=Inwoners%20in%20de%20buurt%20Sto khasselt,januari%20in%20het%20bevolkingsregister%20vastgelegd.