Written by: Bo van Baest, David Cacín Brouwer & Sophie van Dooijeweert
It was a rainy day when we went on a field trip to visit the bordering neighbourhoods of Bloemenoord and Meerdijk. This field trip was a part of the course Sustainability, Health and Well-being, with the aim to walk around the neighbourhoods and think of a policy intervention that would improve the well-being of the residents living there. While walking around Bloemenoord, we met some elderly people at a bakery who seemed interested in what we were doing there. After chatting with them for some time about the state of the Dutch weather (which is a regular occurrence unfortunately), we asked them about their experiences with people from Meerdijk and whether they felt like they had a connection with those people. The response we got was quite a bummer. They told us that, in their experience, people from Meerdijk avoided going to Bloemenoord and they felt like they looked down on them.
As a group, we reflected on the field trip and all the information we gathered. We came to the conclusion that we wanted to find a way to narrow this social gap between the two neighborhoods. We looked at statistics from both neighborhoods to paint a more accurate picture of Bloemoord and Meerdijk. We saw two numbers which worried us: 41% of people in Meerdijk and 49,1% of people in Bloemenoord aged 18 years or older report they experienced some form of loneliness in 2020 [1].
The Covid-19 pandemic was a time of quarantine, isolation and loneliness. Students could not go into class anymore to interact with their friends and seeing colleagues was for the most part only possible via Zoom. Visiting grandpa or grandma was not allowed either. While the world is still dealing with the hangover from this period, some people's lives never fully returned to the way they were before. Because most people could not interact with one another to the degree they did before the pandemic, they missed out on valuable interaction and activities, which are important for the development of certain social skills [2]. This could, therefore, have long lasting consequences that span after the ending of the pandemic.
Now what exactly is loneliness, and what are the consequences for people who experience this? While there is not one single right definition, they all mention the same aspects. Whether this is the strength of social contacts, the lack of contacts etcetera, most definitions are centered around the social nature of people. The explanation that we felt matched the best, was that loneliness can be defined as the discrepancy people feel between their current social contact and the contact they wish they had [3]. This experienced discrepancy can lead to all kinds of mental and physical problems which negatively impact their wellbeing [4; 5]. By getting people to interact with one another, we want to tackle the problem of loneliness, as well as getting people to build new connections with one another. We aim to do this via the idea we like to call 'Skill Share'.
Skill share
The idea of Skill Share is to bring people from both neighborhoods and from different generations together and to share their skills and knowledge with one another. Since a large part of the residents of Meerdijk and Bloemenoord are elderly people (aged 65 or older) we see them as a valuable resource to tap into. This is because of the fact that elderly people have skills they could share with the younger generation (think of working in a certain field of work for many years, creative skills like art, or practical skills like cooking). Not only can they teach skills, elderly people also have an abundance of life experience which they could use to guide the younger generation. By recruiting elderly people into the program, we might give them a platform they could use to get in contact with other people. This way, we can give elderly people the feeling of being useful to their community when they perhaps felt lonely or neglected. The same goes for younger people. We envisioned them giving elderly people tech support or workshops. Through these opportunities, they can not only improve their social contacts, but also learn new skills and develop further.
The plan is structured as follows; By promoting the program through flyers, social media and local schools we are able to get people to sign up. They could either be participants in the workshops or be the ones to lead the workshops. By the use of a bulletin board in the community center located in Bloemenoord, people can sign up and be made aware of which specific workshops take place on which dates. Another possibility provided by the use of this bulletin board is the fact that people who perhaps are struggling with something (an elderly person who needs help with their computer for example) can ask for help from their community. The community center can therefore be the main hub where these workshops take place or where people go to organize a workshop themselves.
Now why would Skill Share work as a way to promote a sense of community as well as battle loneliness? First off, social support is an important factor when trying to reduce loneliness and promote wellbeing among elderly people [6]. So, by bringing people together through Skill Share we are able to support people in their social needs. This could be ranging from the occasional conversation, to building meaningful and lasting connections between people. Second, bringing different age groups together through intergenerational programs can break down stereotypes between groups of people, allowing them to get to know one another which in turn has a positive effect on social connectedness [7]. Third, building a positive environment where people can flourish, share their skills and knowledge has many benefits for their mental wellbeing [8]. This is due to the fact that this program promotes the development of the participants, which focuses on a range of positive emotions. In conclusion: Getting people together and building lasting connections is a vital step in the struggle to tackle loneliness.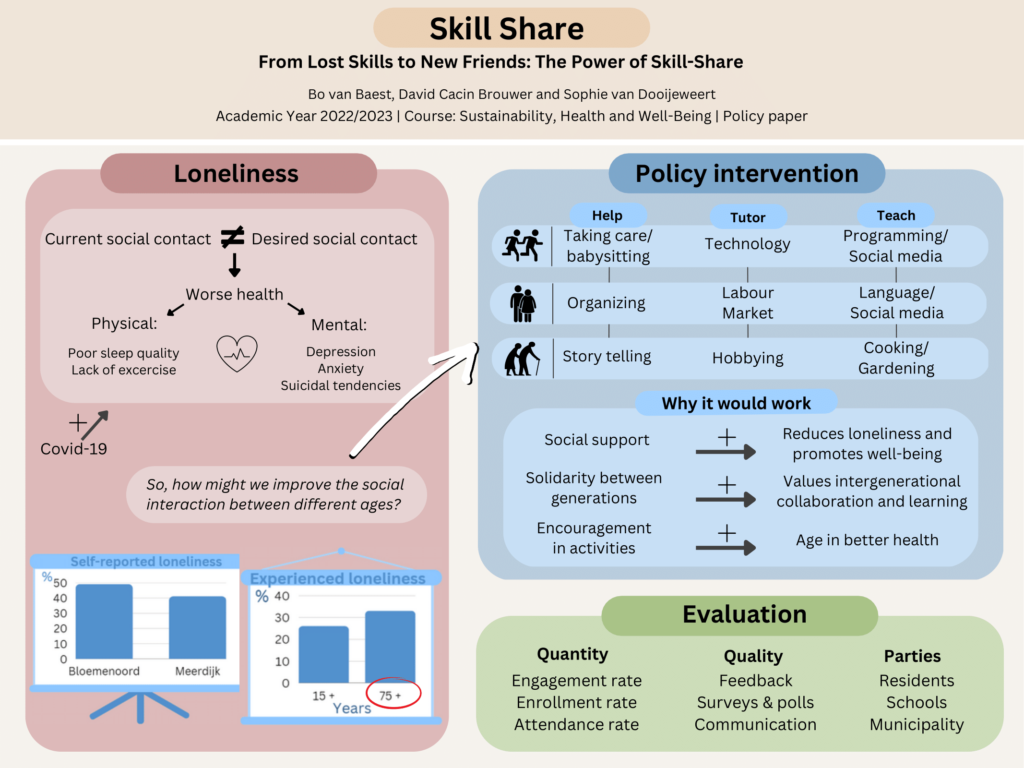 Sources
[1] Rijksinstituut voor Volksgezondheid en Milieu (2020). Eenzaamheid 2020. Retrieved from https://www.rivm.nl/media/smap/eenzaamheid.html?gemeente=Waalwijk
[2] Gupta, T., & Nebhinani, N. (2020). Impact of COVID-19 pandemic on child and adolescent mental health. Journal of Indian Association for Child and Adolescent Mental Health, 16(3), 1-16. Retrieved from https://journals.sagepub.com/doi/pdf/10.1177/
0973134220200301
[3] Bekhet, A. K., Zauszniewski, J. A., & Nakhla, W. E. (2008). Loneliness: a concept analysis. Nursing Forum, 43(3), 207-213. https://doi.org/10.1111/j.1744-6198.2008.00114.x
[4] Blossom, P., & Apsche, J. (2013). Effects of loneliness on human development. International Journal of Behavioral Consultation and Therapy, 7(4), 28. Retrieved from https://psycnet.apa.org/fulltext/2013-10410-008.pdf
[5] Bek, H. (2017). Understanding the effect of loneliness on academic participation and success among international university students. Journal of Education and Practice, 8(14), 46-50. Retrieved from https://files.eric.ed.gov/fulltext/EJ1143922.pdf
[6] Hawkley, L. C., & Cacioppo, J. T. (2010). Loneliness matters: A theoretical and empirical review of consequences and mechanisms. Annals of Behavioral Medicine, 40(2), 218-227. https://doi.org/10.1007/s12160-010-9210-8
[7] Couper, D. P., Sheehan, N. W., & Thomas, E. L. (1991). Attitude toward old people: The impact of an intergenerational program. Educational Gerontology: An International Quarterly, 17(1), 41-53.
[8] Chakhssi, F., Kraiss, J. T., Sommers-Spijkerman, M., & Bohlmeijer, E. T. (2018). The effect of positive psychology interventions on well-being and distress in clinical samples with psychiatric or somatic disorders: A systematic review and meta-analysis. BMC Psychiatry, 18, Article 211. https://doi.org/10.1186/s12888-018-1739-2
Appendix

Lonely Times ( https://www.youtube.com/watch?v=GdcDKpLUajs )
Lasting connections ( https://www.youtube.com/watch?v=ND22HC5yYeM )